Wednesday, May 28th, 2014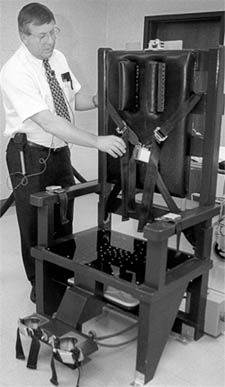 The state of Tennessee is in the death business. This year, several inmates are scheduled to be executed in the name of justice and for the good of the people of Tennessee. With the recent work of the Tennessee General Assembly and Governor Bill Haslam, the state of Tennessee is set on a path of evil and torturous death dealing with the reinstatement of the use of the electric chair.
There is no way to confuse this barbaric form of execution with the establishment of justice. The legislation is a regression for human rights, it undermines the work of seeking wholistic justice, and it is a disgrace to people of faith in this state. Governor Haslam is making all Tennesseans culpable for the state sponsored murder in the false name of further protecting the common good. It is an outright lie.
The work of the General Assembly has already made it feasible for the state to withhold critical execution information including the manufacturing, procurement, and use of lethal injection drugs. We are witnessing that death dealing is significantly easier when it is empowered by legislative authority and veiled from the eyes of critical inquiry and protest. When light breaks into the darkness, Tennesseans may begin to see the insidious, hidden, and torturous methods by which the state abuses its dictum to seek out the public good at the cost of human life.
The use of the death penalty for the work of justice is despicable. It is the antithesis of life. It is the antithesis of beauty. It is a distorted and twisted attempt to establish justice. It should be opposed on moral, theological, and sociological grounds because it does not lead to manifestations of justice. It is an abuse of power, a bankrupt act of state sponsored violence, and a clear manifestation of evil.
I ask you, people of all faiths and good will, to write and call Governor Bill Haslam. We are asking for an immediate moratorium on all state executions in Tennessee. Each one of us has a sacred duty to resist evil and oppression in whatever forms they present themselves.

____________________________________________________________
Rev. Adam Kelchner is campus minister at Belmont Wesley Fellowship and pastor for Mission & Outreach at Belmont United Methodist Church in Nashville, TN.