Tuesday, April 29th, 2014
Watching PBS FRONTLINE's latest documentary "Solitary Nation," all I could think about was my tour of the Eastern State Penitentiary in Philadelphia. Well, that and "damn, that is a lot of blood" – but more on that later.
I wondered if in 150 years people will tour the ruins of our prisons and the "solitary" units, or especially the solitary-only supermax prisons, and shake their heads in disbelief as I did when I toured Eastern State last year. What will the signs say as they describe how from the 1980's the use of solitary confinement exploded in the U.S. to some 80,000 people in solitary by 2000? What will the audio tour say about the treatment (or lack thereof) of mental illness?
Will the Pelican Bay State Prison be open for tours in 2150, with a plaque describing the 60 day hunger strike in 2013 and how it was halted only with promises from legislators for hearings on solitary confinement and potential legislative reforms? Will there be mention of the countless family members, formerly incarcerated individuals, and advocates who sought reform? Will there be discussion of racial and class disparities in not only who ended up in prison, but then who ended up in solitary? (Filmed in Maine, the FRONTLINE documentary features all white prisoners and staff.) What of the working environment for the guards, in a place that exacerbates or triggers mental illness for so many of the imprisoned?
What will our great-great-great grandchildren think as they look back to the early 2000's, just as I stood in cavernous corridors and empty cells thinking back to the mid 1800s?
The displays at the ruins of the Eastern State Penitentiary describe how the prison was built with individual cells for the imprisoned to be isolated in order to reflect and in the time alone, become penitent. Unfortunately the experience of Eastern State shows all too well the law of unintended consequences. The isolation drove people insane. And we have not learned. While the Quakers who influenced this system of isolation intended to bring reform, it was eventually abandoned. In the current resurgence of the use of solitary confinement, Quakers are among the most vocal proponents against its use. They have learned. When will we all?
Solitary confinement today means 23 hours a day in an approximately 6ft by 9 ft cell and one hour for exercise in a small cage. Food in through a tray in the door, shackled when moved, and very, very loud at times as "Solitary Nation" vividly conveys through its dramatic audio. Different systems have different names for solitary: Security Housing Unit (SHU), Special Housing Unit, segregation, administrative segregation, disciplinary segregation, protective custody. These are all polite names. You'll learn a lot more from one of the names people in solitary call it – "the hole."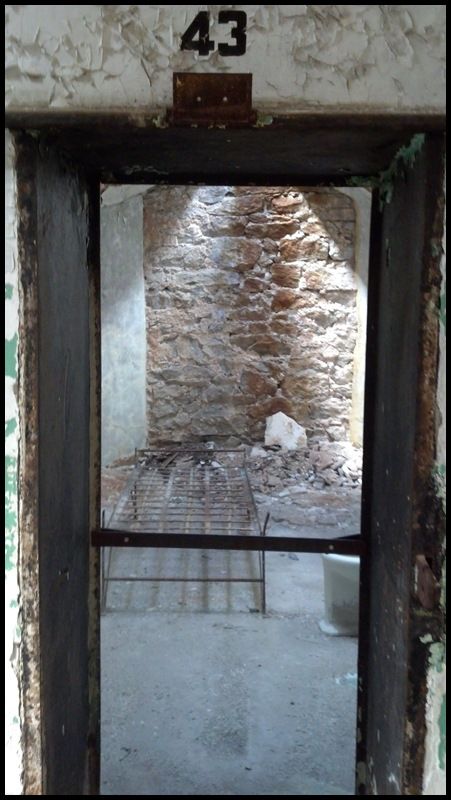 And now back to "damn, that was a lot of blood." I encourage you to watch the FRONTLINE documentary, but maybe do it with a friend or in a group so that you have someone to talk about it with afterwards. The documentary doesn't hold anything back in showing the self-harm that some prisoners engage in. The film crew was given tremendous access and "Solitary Nation" brings to our TVs, computers, iPads, or phones a gripping glimpse into the brutal, non-rehabilitative reality of solitary confinement.
Whatever gets written for those signs in 2150 at the ruins of one of our prisons, I hope it will include description of the variety of campaigns throughout the country to confront solitary confinement. To learn how people of faith are engaged to end solitary confinement and learn how you can get involved, check out this listing of state campaigns.
____________________________________________________________________
T.C. Morrow is Director of Finance & Operations for the National Religious Campaign Against Torture. A life-long United Methodist, she is a member of Foundry UMC in Washington, DC. She holds a B.A. in Physics from Vassar College and an M.Div. from Wesley Theological Seminary.