The Connectional Table's Bribe to Straight Progressive Clergy
Thursday, May 21st, 2015 1:27 pm
On Palm Sunday this year, I preached a sermon entitled "How the Racial Bribe Killed Jesus". It was not exactly a "Hosanna", children smiling with palm branches kind of day at Church of the Village. That was because we spent the season of Lent reading Michelle Alexander's book The New Jim Crow: Mass Incarceration in the Age of Colorblindness. Alexander talks a good deal about racial bribes in the book, which are basically when racial groups or subsets of racial groups take certain advantages in a system in exchange for an institutional peace that continues to perpetrate injustice on more vulnerable groups (Think the Jewish tax collectors and chief priests of Jesus' time.).
On my reading of the book this time around, I was taken aback by one of Alexander's claims: that I myself am a bribe-taker. In her last chapter, she claims that the "civil rights community", largely made up of middle and upper class people of color, have taken the racial bribe of affirmative action and its promise of surface level racial representation in the halls of education and power. While these gains are important, they have knocked the wind out of the sails of a more fundamental and systemic civil rights movement that would include true racial justice for poor Black and Brown people, the very folks who are left out of the gains of affirmative action.
Since reading Alexander's judgment upon me, I have been trying to be more aware of when I take bribes, when I claim advantages in exchange for a peace without justice. And that is why I worry about new legislation that came out this week from one of our denomination's highest bodies. Our Connectional Table just approved a proposal to change much of the discriminatory language in the Book of Discipline regarding homosexuality. The plan does some good things, the most notable of which is making it legal for clergy to perform same-sex weddings.
But this change at the highest echelons of the church does not necessarily strike me as a courageous step. Instead, the fact that such an inertial and institution-preserving body is taking this action is a sign to me of the incredible power of the LGBTQ equality movement in the world and in our church. Same-sex marriage will very possibly be legal throughout the United States in one month's time. And the grassroots movement of clergy publicly performing same-sex weddings has made church trials a dead end for the institution. These accomplishments are the work of millions of activists and regular people, LGBTQ folks and allies, who have worked and risked and refused to give in to despair. And the Connectional Table's proposal should be celebrated as a sign of the power of God working through these grassroots movements of love, justice, and courage.
This proposal is certainly a sign of movement, and there are people I respect who believe this is a proposal that holds great promise for change at our 2016 General Conference.
A part of me really wants to agree. As a progressive, heterosexual, cisgender, married pastor with one child and two cats, this proposal does everything for me. It would give me the ability to fully, freely, and safely answer my call to ministry. I can be a progressive LGBTQ ally and I can be a United Methodist pastor with a guaranteed job with a salary and benefits. And I can do it anywhere in the world. This is all win for me.
But it is not a win for everyone. The proposal would make the church a little more just, but it is not justice. It falls short of justice and true welcome in several ways, the most disturbing of which is that it allows annual conferences to decide whether or not they will ordain gay, lesbian, and bisexual people. Many, if not most, regions of our church will likely choose not to ordain people based on their sexual orientation. LGBTQ candidates for ministry will have to live in particular, strategic regions if they want to avoid discrimination.
As an out United Methodist clergy ally living in New York City, I have had the privilege of talking with many gifted and called LGBTQ people who are discerning whether or not to enter into the ordination process in the United Methodist Church. I have seen them pour money and years into seminary and ordination requirements without knowing if they will even be seriously considered. I have heard them struggle with how much of their spiritual journey they can really share, as each of their paths with God are inseparable from their sexuality. I have watched them wonder if they will be safe in their jobs even if they are granted full clergy rights. These are all things I never had to worry about because of my sexual orientation.
But it is these young, talented LGBTQ people offering their lives to the church who will remain unsafe even if this limited legislation passes. Now, people will say that this is incremental change. And when we realize that same-sex marriage doesn't cause the church to implode or sprout horns, then we will take the next step and the next step. And that may be true.
But my question is this: When I get everything I need, will I still be as passionate about pushing for change for the next person? When I am free to be myself and to be a pastor in my region with my sexuality, will I still be as passionate about making sure that gay seminarian in Alabama can do the same? I want to say yes. But I know myself. I am a sinner. I am a bribe-taker.
Progressives who want to take this compromise need to do some serious spiritual discernment about our apple-craving, bribe-taking tendencies. I do not believe that members of the Connectional Table meant for this to seem like a bribe to progressives or even progressive heterosexual clergy. But it could very easily become one. We could too quickly take this as a victory in exchange for an unjust peace.
I know that I am a sinner who too often stands in the crowds offering Jesus up for Barabbas. As a heterosexual elder in full connection in a progressive annual conference, I am concerned about claiming my own freedom while people far more vulnerable than me still find themselves in the church's chains.

So, while I celebrate the movements that have forced this proposal, I feel very uneasy about supporting it.
—————————————————————————————————–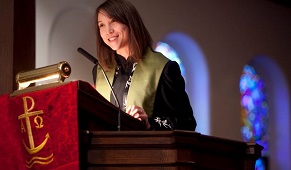 Rev. Vicki Flippin is the co-president of the board of directors of the Methodist Federation for Social Action. She is the Pastor of Social Justice, Exploring Faith, and Inter-generational Ministries at The Church of the Village, a progressive, multi-racial, and Reconciling United Methodist Church in Manhattan. A graduate of Yale Divinity School and the University of Chicago, Flippin has been elected to the New York Annual Conference Jurisdictional/General Conference delegation for 2016.
Tags: Connectional Table, lgbtq, Vicki Flippin