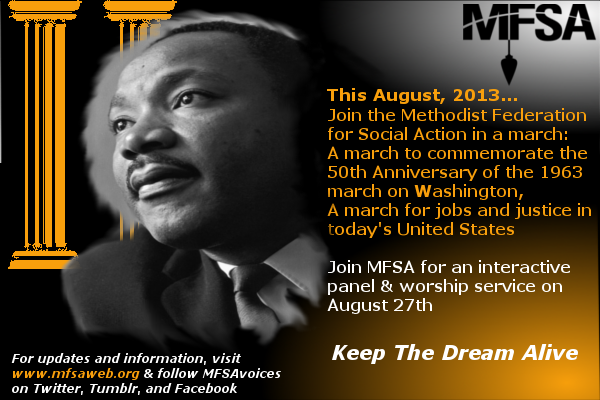 From the Methodist Federation for Social Action:
This August the nation will mark fifty years since the 1963 March on Washington, also known as the March for Jobs, Justice, and Freedom but best known for the stirring "I Have a Dream" address delivered by the Reverend Dr. Martin Luther King Jr. The Methodist Federation for Social Action welcomes constituents and friends to participate in the array of celebrations, colloquia, and actions commemorating that historic day, regarded as instrumental to the passage of the Civil Rights Act of 1964 and the Voting Rights Act of 1965.
MFSA also invites all to renew the thirst for true wholeness as we recall that the journey is far from over. A recent Decision by the Supreme Court has sent critical provisions of the Voting Rights Act back to congress and, now as much as ever, there is a need to stand as witnesses to God's vision of grace and justice, working together to clear the lingering stains of poverty, discrimination, and oppression. Join us for a time of learning, using our voices, and realizing King's dream.
Tuesday, August 27th
MFSA-sponsored event in anticipation of the next day's march (click the virtual flyer for a printable pdf)

Click for a PDF version
Also available as a Bulletin Insert (<click here); print and cut them for a Sunday service soon.

Email jdgore@mfsaweb.org to volunteer to assist MFSA with this event
The MFSA Office will be open on the 24th and the 28th, accordingly, to provide a place to leave bags, hydrate/refresh, make signs, coordinate and collaborate. Volunteers welcome; see bottom for contact details.
A number of activities are planned or developing in Washington DC, late this August:
The '50th Anniversary Coalition for Jobs, Justice, and Freedom' has arranged a slate of programming that stretches from August 24th to the August 28th Anniversary; details are available on their website: http://officialmlkdream50.com/
Saturday, August 24th
The 50th Anniversary Commemoration of the March on Washington.
(led by the Martin L. King, III & National Action Network, in partnership w/APRI, NAACP, SCLC, NUL, NCNW, NCBCP, and The King Center)
The MFSA Office on 212 East Capitol will be open 8am-4pm to provide water, bathrooms, and a place to put bags

The "Marching Forward by Looking Back" conference is also taking place on the 27th; see www.50thanniversarymarchonwashington.com/events for a schedule and browse their website for more background about the march and next day's activities.

Wednesday, August 28th
'A March for Jobs and Justice'
8:00 am, Meets at 600 New Jersey Avenue – departs, 9:30
-Department of Labour, 200 Constitution Avenue
-Department of Justice, 950 Pennsylvania Avenue
-The National Mall
The MFSA Office on 212 East Capitol will be open 7am-4pm to provide water, bathrooms, and a place to put bags
We recognize there is great cost to coming to DC for these events. We will have information regarding low-cost housing-arrangements in the DC area. To be kept alert on the above events, email jdgore@mfsaweb.org with the subject "MLK INFO".
Volunteers: email jdgore@mfsaweb.org to be part of our hospitality team on the 24th and/or 28th, to assist with the symposium or service on the 27th, or with any additional questions.